About Equafleece
This year Equafleece® is celebrating 23 years in business – yes, it was January 2000 that we first created the fleece garment to combat the tremendous rainfall of Dartmoor, one of the most wet and windswept areas of Britain. The challenge was to keep a horse dry whilst exercising without it sweating up in a non-breathable rain sheet, and without the wind getting under it and scaring the living daylights out of the horse – hence the 'Equa' part of the name!
The first rolls of Polartec® fleece were bought in November 2000 (quality has always been our priority). After several prototypes and a lot of field tests, the first dog coat was sold in 2002. Since then Equafleece® has gone from strength the strength, and is vouched for by owners, vets, hydrotherapists, breeders, handlers and most of all, by the dogs and horses themselves.
Pleased as we are with customer approval, we are not resting on our laurels and we are always looking to improve and innovate, keeping the animal's needs as our driving force.
Pioneers in the field of technical wear for dogs, Equafleece has been recognised by experts as fuss-free and effective, with the dog clothing winning an award in 2010 from the Game and Wildlife Conservation Trust for innovation and for its contribution to working dogs at the Scottish Game Fair at Scone Palace.
Our dog and horse wear has consistently proved its worth, and now has a global following with clients in all corners of the world from Australia to Siberia, Spain to Botswana, Norway to Japan.
The innate properties of fleece mean it keeps your animal dry in the rain with no need to reproof – EVER. Simply put, body heat and fleece combine to create a waterproof layer, and provide an easy-to-wash, easy-to-dry and very easy-to-wear answer to challenging weather conditions.
It's the same combination of fleece and body heat that work to dry a dog or horse, the fleece wicks the dampness from the animal's skin and coat and then the body heat pushes it away – no sitting around in a wet towel or cold rug.
We at Equafleece® all have dogs, and some of us a horse or two as well, and the clothing we create is rigorously and regularly tested – you can't fool an old greyhound in the face of a Dartmoor gale. Without the coat he's not putting a toe over the threshold. Rugged up, off he trots...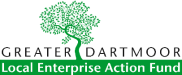 The European Agricultural Fund for Rural Development: Europe investing in rural areas has supported Equafleece Ltd's preparing for growth project.